Location
Fletcher Hotel Gilde
Nieuwstraat 41
7411 LG Deventer
Contact information
Tel: +31 (0)570 - 641 846
Email: info@hotelgilde.nl
Public transport
Do you want to travel to our hotel by public transport?
Hotel location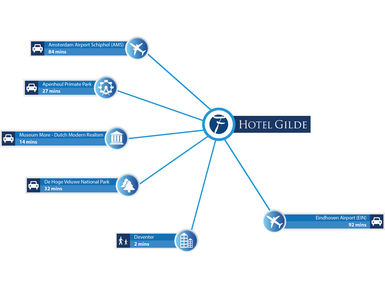 Parking
Because of the fact that Fletcher Hotel Gilde is located in a pedestrian area it is not allowed to park your car in front of the hotel to drop your luggage. Unfortunately it is only allowed to enter the pedestrian area by car if you have a permission.
We would like to adivce you to park your car in the parking garage Stadspoort. From Fletcher Hotel Gilde it is a 4 minute walk (300 metres) to parking garage Stadspoort.